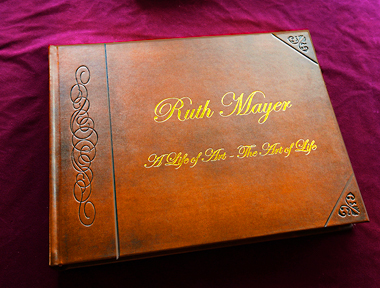 Ruth Mayer Art Book - Artist Reserve
$1,500.00
001

"A LIFE OF ART ~ THE ART OF LIFE"

The Art of American Master "Ruth Mayer" by: Randy Holden

Now available, after Seventeen years in its creation. 400 Pages,
600 color plates, over 500 Paintings, and 100 Photos, in a
history of the Artist, her work.

Book size is 12x17x2, with Matching Presentation Case 14x19x4

Beautifully bound Bonded Leather, Two Tone Deeply Embossed,
Gold Stamped, Gilt page edges. Each Image is individually Hand
Varnished on highest quality 157 grm matt finish paper providing
the greatest clarity of color to match the original Artwork.

Celebrating 70 years of the Artist work; a Limited Edition Book, the "Artist Reserve" Edition, is nested in a beautifully crafted
protective Presentation Case; with a present offering of 100 Signed Numbered copies now made available.